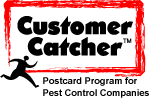 Looking for an inexpensive, impactful method to attract residential pest control customers?
Each of the twelve original pest control postcards below has been designed specifically to help pest control companies attract customers. They are fresh, different and sure to stand out to help market pest control services. Mail one a month or one a quarter -- whatever fits within your budget.
Here's what you get!
12 eye-catching pest control postcard designs to choose from

Sure to be noticed!
Oversized cards (5-1/2"x8-1/2")

Professionally designed

Customized reverse side

Affordable - as little as $.13 ea.

Great quality card

Four-color front; black & white back
| | | |
| --- | --- | --- |
| 1 Red Eyes | 2 Frightened Woman | 3 Announcement |
| 4 Simple Things | 5 Hands on ears | 6 Hiding from bugs |
| 7 Hurrah! | 8 Crying Toddler | 9 Embarrassed Teenager |
| 10 Muscle | 11 Look like bugs | 12 Worried boy |
Why use pest control postcards?
Low cost way to get your message out.

Reach potential clients despite "do not call" list limitations.

Your brief message cannot be overlooked - even by people quickly screening their mail over a wastebasket. No envelope to open.

Easy to send. With postcards there are no assembling, collating, stuffing, sealing envelopes etc.

Versatile tool. A postcard isn't just something to send through the mail. Postcards can also serve as big business cards, and small information sheets. Your card can tell recipients to give the card to your technician for a special discount or offer.

Your pest control postcards can "brand" you and your business

Postcards are mini billboards.

The quick message on the front of our cards can be easily understood!
How much do the cards cost?
All orders are paid in full in advance either by company or personal check or credit card - Visa or MasterCard.
Click here for our price list and ordering information.
Tips
You can achieve predictable results by repeating your postcard mailings approximately every 4-6 weeks.