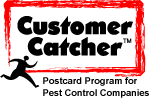 Pricing
Quantity

1 Design

3 Designs*

4 Designs*

Total
Cost/ Design**

(Cost
Per Card)

Total Cost/
Design*

(Cost
Per Card)

Total Cost/ Design

(Cost
Per
Card)

500

$590

$1.18

$565
($1695 total)

$1.13

$540 ($2160 total)

$1.08

1,000

$650

$0.65

$625
($1875 total)

$0.63

$600
($2400 total)

$0.60

2,500

$728

$0.29

$703
($2109 total)

$0.28

$678
($2712 total)

$0.27

5,000

$890

$0.18

$865
($3460 total)

$0.17

$840
($3360 total)

$0.17

7,500

$1,130

$0.15

$1,105
($3315 total)

$0.15

$1,080
($4320 total)

$0.14

10,000

$1,340

$0.13

$1,315
($3945 total)

$0.13

$1,290
($5160 total)

$0.13
(To see an enlarged version of each pest control postcard, click on each photo below.)

| | | |
| --- | --- | --- |
| 1 Red Eyes | 2 Frightened Woman | 3 Announcement |
| 4 Simple Things | 5 Hands on ears | 6 Hiding from bugs |
| 7 Hurrah! | 8 Crying Toddler | 9 Embarrassed Teenager |
| 10 Muscle | 11 Look like bugs | 12 Worried boy |
(Call 800-779-0067 for special pricing on more than four designs.)
*Multiply this price per design by the number of different designs you are ordering.
**Includes design & printing but does not reflect shipping cards to you or postage to mail them.
All orders are paid in full in advance either by company or personal check or credit card - Visa or MasterCard.
Click here for our price list and ordering information.
Tips
You can achieve predictable results by repeating your postcard mailings approximately every 4-6 weeks.
---
Compelling Communications, Inc., Manchester, MO - 800-779-0067 -
Copyright 2005. This site is best viewed with Internet Explorer 5.0 or later.


Does anything on this website bug you? Nothing is too small or too big. If there is something we can fix, we'd love to know. In fact, we will give away a free book for the best BUG OF THE MONTH! Click here to Report a Bug!