Online Marketing Materials Evaluation Center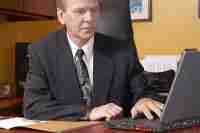 Using our benchmark evaluation forms, you can evaluate your own marketing materials. After you've assigned a numerical rating to each criteria and click on Calculate Your Rating -- you'll see how your marketing piece rated.
Then, if you'd like assistance at improving it or creating a new project, call us at 800-779-0067 or email.
NEW STUFF

FREE!
•
Evaluate Your Advertisement
•
Evaluate Your Brochure
•
Evaluate Your Press Release
•
Evaluate Your Business Card
•

Evaluate Your Forms

•
Evaluate Your Newsletter
•

Evaluate Your Website
---
Compelling Communications, Inc., Manchester, MO 63011 -- 800-779-0067 - Email
Copyright 2006. Site best viewed with Internet Explorer 5.0 or later - Site updated June 21, 2006
Does anything on this web site bug you? Nothing is too small or too large. If there is something we can fix, we'd love to know.
In fact, we will give away a free book for the best BUG OF THE MONTH!